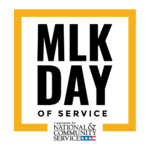 Creation Care will be observing Martin Luther King Jr day, Monday, January 20, 2020 as a work day rather than a day off.
We will be focusing on the Church, church grounds, Vanessa Knight Building, gardens, trails, yard and curb side.
We are asking volunteers to assist in this effort. Work will be from 9:00am until 1:00pm.
A communal feast will be served after the completion of work. If you have any questions see Sis. Marshall Honeywood. #BeAfrikan #MLK2020