Bible Readings and Words of Reflection is just another way of keeping us engaged during this time  of Social Distancing and Staying in Place.
While it is by no means as in depth as our usual bible study sessions,  I trust you will find this just as meaningful.
I will post one each Wednesday using the bible verse(s) that will be preached by  Pastor, Rev. Dr. Lomax the upcoming Sunday.
~ Elder Carvel Bennett ~
Bible Study – Reading and Personal Reflection June 24 2020 (Click for PDF)
Click image for full-size view
---
Bible Study – Reading and Personal Reflection June 17 2020 (Click for PDF)
Click image for full-size view
---
Bible Study – Reading and Personal Reflection June 10 2020 (Click for PDF)
Click image for full-size view
---
Bible Study – Reading and Personal Reflection June 3 2020 (Click for PDF)
Click image for full-size view
---
Bible Study – Reading and Personal Reflection May 27 2020 (Click for PDF)
Click image for full-size view
---
Bible Study – Reading and Personal Reflection May 21 2020 (Click for PDF)
Click image for full-size view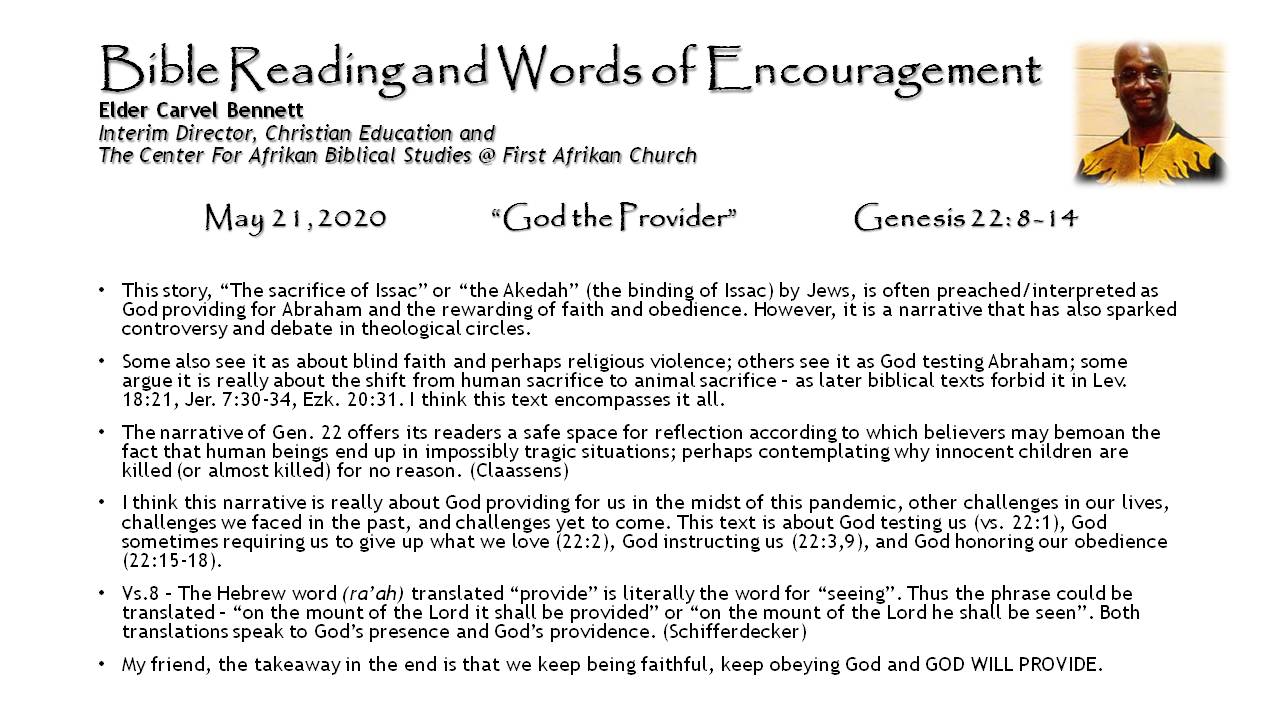 ---
Bible Study – Reading and Personal Reflection May 14 2020 (Click for PDF)
Click image for full-size view
---
Bible Study – Reading and Personal Reflection May 10 2020 (Click for PDF)
Click image for full-size view
---
Bible Study – Reading and Personal Reflection April 29 2020 (Click for PDF)
Bible Study – Reading and Personal Reflection April 22 2020 (Click for PDF)
Bible Study – Reading and Personal Reflection April 15 (Click for PDF)
Bible Study – Reading and Personal Reflection April 8 2020 (Click for PDF)
Bible Reading and Personal Reflection April 5 2020 (Click to get PDF)
Every Wednesday
Until: June 26, 2020