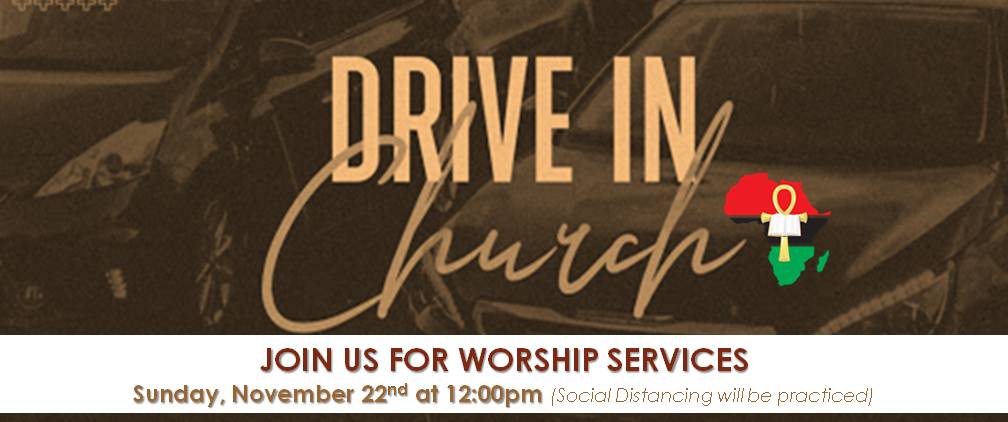 Join us for Worship on Sunday, November 22nd at

10am ONLINE
On Facebook @FirstAfrikan Click on VIDEOS Sundays at 10AM to view services online.
12pm for DRIVE-IN

services at First Afrikan Church Parking Lot
(Social Distancing will be practiced. You will be able to Tune-In in your car). #BeAfrikan #WorshipGod
---
By God's amazing grace we come to the end of yet another year. Twenty-twenty has been filled with the trauma of a world-wide pandemic (COVID-19), the extra-judicial killings of Breanna Taylor, George Floyd, Ahmad Abery and many, many more; countless lies and truth-twisting from the highest office of the land, white supremacist terrorism, protests by women and Black Lives Matter both of whom are seeking justice; mounting hunger, homelessness, joblessness, and despair. The list actually goes on.
It may seem that God has removed the divine hand from the human family – that the Divine has left the human family to our own devices. Yet, it is more probable that God is smack dab in the middle of it all.
A new age/eon is dawning. Dr. Finch reminds us that there is upheaval at the end of every age/eon (see Echoes of the Old Darkland). When asked by the disciples the signs of the coming end of the age, Jesus responded that a host of environmental, social, and military issues that occur as signs of the end age (Matthew 24:3-8). It is not the end of the world. It is the end of an age we are experiencing. This age and the next are firmly in the hands of God.
This series is designed to remind us of the sovereignty of God, the responsibilities we bear as children of God, and how we overcome and press through by our faith and our testimony.
Your prayers, participation, and determination to keep pressing on are essential to our present and future as a faith community.
Asante Sana for you!
Biblical Text & Topic
Click link for scripture
---
Wednesday, November 4 & Sunday, November 8
 Biblical Texts: Matthew 24:3-8  & 28:19-20
---
Umoja (Unity)
Wednesday, November 11 & Sunday, November 15
 Biblical Text: Galatians 3:23-29
---
Kujichagulia (Self-Determination)
Wednesday, November 18 & Sunday, November 22
ThanksGiving Week
Biblical Text: Galatians 6:7-10
---
Ujima (Collective Work and Responsibility)
Wednesday, November 25 & Sunday, November 29
Biblical Text: Ecclesiastes 4:9-12
---
Ujamaa (Cooperative Economics)
Wednesday, December 2 & Sunday, December 6
Biblical Text: 2 Corinthians 9:10-15
---
Nia (Purpose)
Wednesday, December 9 & Sunday, December 13
Happy 28th Anniversary!!
Biblical Text: Luke 4:16-22
16 When he came to Nazareth, where he had been brought up, he went to the synagogue on the sabbath day, as was his custom. He stood up to read, 17 and the scroll of the prophet Isaiah was given to him. He unrolled the scroll and found the place where it was written:
18 "The Spirit of the Lord is upon me,
    because he has anointed me
to bring good news to the poor.
He has sent me to proclaim release to the captives
    and recovery of sight to the blind,
to let the oppressed go free,
19 to proclaim the year of the Lord's favor."
20 And he rolled up the scroll, gave it back to the attendant, and sat down. The eyes of all in the synagogue were fixed on him. 21 Then he began to say to them, "Today this scripture has been fulfilled in your hearing." 22 All spoke well of him and were amazed at the gracious words that came from his mouth. They said, "Is not this Joseph's son?"
---
Kuumba (Creativity)
Wednesday, December 16 & Sunday, December 20
Biblical Text: 1 Chronicles 22:14-16
---
Imani (Faith)
Wednesday, December 23 & Sunday, December 30
Biblical Text: Ephesians 2:4-10