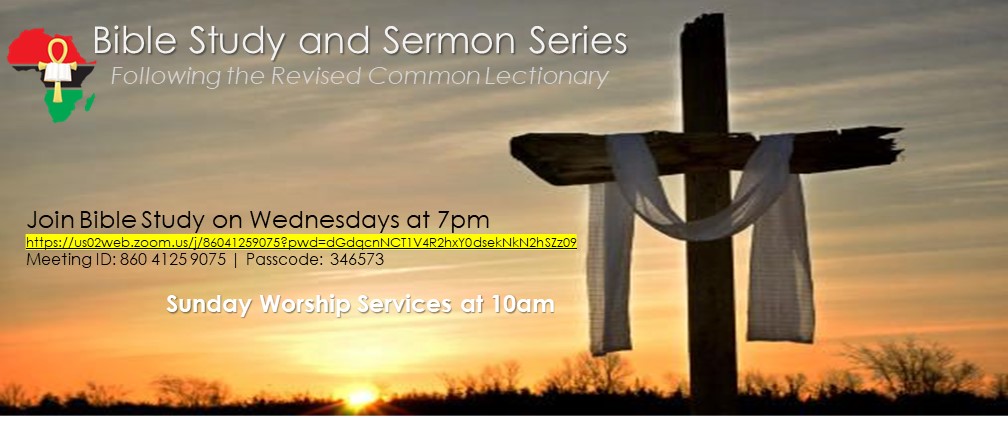 Meeting ID: 860 4125 9075 | Passcode: 346573
---
Rationale:
This study and sermon series follows the Revised Common Lectionary. It covers the last Sunday of Lent, Resurrection Sunday, and the teaching and activities of the first followers of Yeshua prior to and succeeding the crucifixion and resurrection. The teachers, preachers, and members of First African are invited to read these texts using the lens of African Americans in relationship to our collective experiences of oppression in and by the American empire. Further, we are invited to see the nascent church employ spiritual technologies – prayer, assembling together and offering one another revolutionary Black grace – in their collective efforts to throw off the yokes of oppression.
Since these biblical texts are familiar, it is tempting to assume we know what they mean. However, given the current global and national political, economic and military climate, we are 1) invited to re-examine these passages as if we are seeing them for the first time. 2) discern whether the meaning world of these passages has shifted as a consequence of the times we are in right now, and 3) hear again from the Creator who and what we are called to be and do in this moment in history.
Pastor Lomax
---
May 3
Biblical Text: Acts 7:55-60
55 But filled with the Holy Spirit, he gazed into heaven and saw the glory of God and Jesus standing at the right hand of God. 56 "Look," he said, "I see the heavens opened and the Son of Man standing at the right hand of God!" 57 But they covered their ears, and with a loud shout all rushed together against him. 58 Then they dragged him out of the city and began to stone him, and the witnesses laid their coats at the feet of a young man named Saul. 59 While they were stoning Stephen, he prayed, "Lord Jesus, receive my spirit." 60 Then he knelt down and cried out in a loud voice, "Lord, do not hold this sin against them." When he had said this, he died.
---
May 10
Biblical Text:  Acts 17:22-31
22 Then Paul stood in front of the Areopagus and said, "Athenians, I see how extremely spiritual you are in every way. 23 For as I went through the city and looked carefully at the objects of your worship, I found among them an altar with the inscription, 'To an unknown god.' What therefore you worship as unknown, this I proclaim to you. 24 The God who made the world and everything in it, he who is Lord of heaven and earth, does not live in shrines made by human hands, 25 nor is he served by human hands, as though he needed anything, since he himself gives to all mortals life and breath and all things. 26 From one ancestor[a]he made all peoples to inhabit the whole earth, and he allotted the times of their existence and the boundaries of the places where they would live, 27 so that they would search for God[b] and perhaps fumble about for him and find him—though indeed he is not far from each one of us.28 For 'In him we live and move and have our being'; as even some of your own poets have said, 'For we, too, are his offspring.'
29 "Since we are God's offspring, we ought not to think that the deity is like gold or silver or stone, an image formed by the art and imagination of mortals. 30 While God has overlooked the times of human ignorance, now he commands all people everywhere to repent, 31 because he has fixed a day on which he will have the world judged in righteousness by a man whom he has appointed, and of this he has given assurance to all by raising him from the dead."
---
May 17
Biblical Text: Acts 1:6-14
6 So when they had come together, they asked him, "Lord, is this the time when you will restore the kingdom to Israel?" 7 He replied, "It is not for you to know the times or periods that the Father has set by his own authority. 8 But you will receive power when the Holy Spirit has come upon you, and you will be my witnesses in Jerusalem, in all Judea and Samaria, and to the ends of the earth."9 When he had said this, as they were watching, he was lifted up, and a cloud took him out of their sight. 10 While he was going and they were gazing up toward heaven, suddenly two men in white robes stood by them. 11 They said, "Men of Galilee, why do you stand looking up toward heaven? This Jesus, who has been taken up from you into heaven, will come in the same way as you saw him go into heaven."
 Matthias Chosen to Replace Judas
12 Then they returned to Jerusalem from the mount called Olivet, which is near Jerusalem, a Sabbath day's journey away. 13 When they had entered the city, they went to the room upstairs where they were staying: Peter, and John, and James, and Andrew, Philip and Thomas, Bartholomew and Matthew, James son of Alphaeus, and Simon the Zealot, and Judas son of[a] James. 14 All these were constantly devoting themselves to prayer, together with certain women, including Mary the mother of Jesus, as well as his brothers.
---
May 24
Biblical Text: Acts 2:1-21
1 When the day of Pentecost had come, they were all together in one place. 2 And suddenly from heaven there came a sound like the rush of a violent wind, and it filled the entire house where they were sitting. 3 Divided tongues, as of fire, appeared among them, and a tongue rested on each of them.
4 All of them were filled with the Holy Spirit and began to speak in other languages, as the Spirit gave them ability.
5 Now there were devout Jews from every people under heaven living in Jerusalem. 6 And at this sound the crowd gathered and was bewildered, because each one heard them speaking in the native language of each. 7 Amazed and astonished, they asked, "Are not all these who are speaking Galileans? 8 And how is it that we hear, each of us, in our own native language? 9 Parthians, Medes, Elamites, and residents of Mesopotamia, Judea and Cappadocia, Pontus and Asia, 10 Phrygia and Pamphylia, Egypt and the parts of Libya belonging to Cyrene, and visitors from Rome, both Jews and proselytes, 11 Cretans and Arabs—in our own languages we hear them speaking about God's deeds of power." 12 All were amazed and perplexed, saying to one another, "What does this mean?" 13 But others sneered and said, "They are filled with new wine."
Peter Addresses the Crowd
14 But Peter, standing with the eleven, raised his voice and addressed them, "Fellow Jews[a] and all who live in Jerusalem, let this be known to you, and listen to what I say. 15 Indeed, these are not drunk, as you suppose, for it is only nine o'clock in the morning. 16 No, this is what was spoken through the prophet Joel:
17 'In the last days it will be, God declares, that I will pour out my Spirit upon all flesh, and your sons and your daughters shall prophesy,
and your young men shall see visions, and your old men shall dream dreams.
18 Even upon my slaves, both men and women, in those days I will pour out my Spirit, and they shall prophesy.
19 And I will show portents in the heaven above and signs on the earth below,  blood, and fire, and smoky mist.
20 The sun shall be turned to darkness and the moon to blood, before the coming of the Lord's great and glorious day.
21 Then everyone who calls on the name of the Lord shall be saved.'
Every Wednesday
Until: June 07, 2023
Time: 07:00pm
Place: Zoom