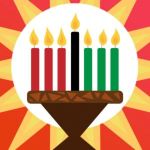 Join us for an evening of Ujima, on Saturday December 28th
Children's Kwanzaa from 2:30-5pm featuring Kwanzaa Kraft's, storytelling, movies, children's book table and children's drum and dance workshop.
Dinner will be served from 5:15pm to 6:45pm. During dinner, youth will work together to create a unique and engaging demonstration of Kwanzaa that will be presented during the evening program.
Kwanzaa program  begins at 7 pm and continues until 9 pm. The program will include a Kwanzaa Quiz Bowl held from 8:00pm to 8:45pm.

All events are FREE
First Afrikan Church is located at 5197 Salem Road, Lithonia, GA 30038