ANNOUNCEMENTS: 
Please join us for our last Fall/Winter Bible Study Series on Healing, Wednesday, October 16th at 1:00pm & 7:00pm. Study Topic & Text: "Comfort for God's People" Isaiah 40
---
COMMUNITY ANNOUNCEMENTS: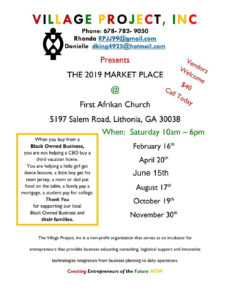 Be a Vendor at the Village Project, Inc. Marketplace on Saturday, October 19, 2019th at First Afrikan Presbyterian Church, 5197 Salem Road, Lithonia, Ga 30038 from 10:00am to 6pm. Vendor Fee $40.00 and is due NOW. Electronic payments Methods: Cash App-$Village ProjectInc, PayPal.Me/VillageProjectInc.
The Auburn Avenue Research Library, in collaboration with, The Weems Firm, Inc. and The Committee on African American History and World Perspectives will host bestselling author, historian, and veteran teacher Professor Kaba Hiawatha Kamene and in...
Read More