PLEASE REMEMBER TO PRAY FOR ALL OUR SICK, SHUT IN AND THOSE THAT ARE EXPERIENCING DIFFICULTIES IN THEIR LIVES AND FAMILIES
---
Deacon Angie Wiggins
Mr. Lardell Shaw, brother of Rev. Lillie Shaw-Lomax
People in North Carolina, South Carolina & Virginia affective by the aftermath of Hurricane Florence.
Mrs. Emmalene Reynolds, the mother of Elder Newburn (Deacon Ethelin) Reynolds
Mother Dorothy Stamps
Mr. Timothy Reid of Fayetteville, NC, brother of Sis. Angela Reid
Sis. Kim Purnell
Sis. Mekeyah McQueen and family
People of Cameroon
Sis. Sasha Odom
Mrs. Ann Mitchell of Chicago, IL mother of Rev. Susan Mitchell
---
ANNOUNCEMENTS:
Please join us for our 2018 Fall Bible Study Series starting Wednesday, October 3rd at 1pm with Elder Carvel Bennett & 7pm with Pastor Mark Lomax. Study Title: "HARMONY": The third Principle of Maat and the Goal of Holiness. Text: Romans 12:15-17; 15:5 Lunch and Dinner served 1 hour prior to class.
Please join the Men of First Afrikan Church on Saturday October 6 at 9:30 am for THE BROTHERS BRUNCH. A rehearsal of the men's choir will follow. The Brothers Brunch is a morning set aside for men of all ages and stages to share and receive spiritual and psychological support.  Rev Brady Radford will return with a power packed panel to continue our discussion on the shifting narrative and ideology of black masculinity in our current American context. A bountiful brunch will be served. Please see Rev Carlton Johnson for any additional questions
In honor of October Breast Cancer Awareness Month join us as we "Worship in Pink" on Sunday, October 28, 2018. Please wear your pink in honor of all the Cancer Survivors.
---
COMMUNITY ANNOUNCEMENTS:
"Song Lake" the play is a theatrical music healing experience written, produced, directed and performed by church member Akua Taylor.  Debuting with the Atlanta Black Theatre Festival on October 3rd at 7:00pm at the Porter Sanford Performing Arts Center:  3181 Rainbow Dr., Decatur, GA 30034. "Song Lake" is story about three angels who come to earth and collect all the problems of the world.  The angels take all the problems to "Song Lake" and heal the community.  More than just a show, "Song Lake" will symbolically wash away evil through performance art.   Tickets available online at www.abtfsonglake.eventbrite.com.
First African Community Food Pantry & Dekalb Criminal Justice Treatment Coalition is having a Health Fair. Friday, October 5, 2018 from 8am – 1pm during the Food Pantry in the First Afrikan Church parking lot. HIV testing, Diabetes Screening, Sickle Cell Testing, Depression Screening and lots more.
Dekalb County Community Council Meeting  on Monday, October 8, 2018 at Redan-Trotti Library 1569 Wellborn Road, Lithonia, GA 30058. We must oppose the TRUCK STOP from coming to Lithonia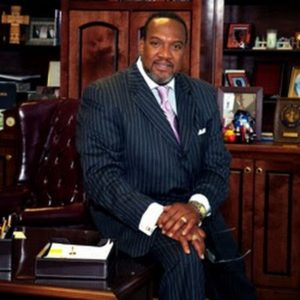 Please join Union Missionary Baptist Church, 2470 Bruce Street, Lithonia, GA 30058 on Wednesday, October 10th and Thursday, October 11th for a two night Revival. Speaker Rev. Angela B. Moore of Clarkston First Baptist Church, Clarkston, GA. You are also invited Sunday, October 21st for the Women's Day Celebration, Speaker: Rev. Josephine Barksdale, Lindsey Street Baptist Church, Atlanta, Ga.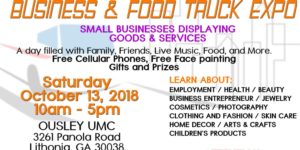 , Saturday, October 13, 2018 10am-5pm. At Ousley UMC, 3261 Panola Road, Lithonia, GA 30038. A day filled with Family, Friends, Live Music, Food and More. Free Cellular Phones. Free Face Painting, gifts and prizes. Vendor opportunities available contact Ms. T. Ellis 404-552-3637. ATTENTION: Models wanted for our Fashion Show!!
Celebrating the Gift of Health Saturday, October 13, 2018 at Antioch-Lithonia Missionary Baptist Church, 2152 Rock Chapel Road, Lithonia, GA 30058, in the Fellowship Hall 10am -2pm. Health Screenings, Free Massages, Healthful Information, Kids Activities, Skit, Guest Speakers., Healthy Snacks, Entertainment and more..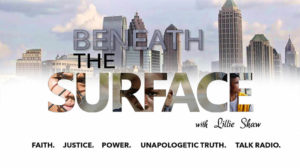 "The Black Business Empowerment Forum" comes to First Afrikan Church by way of "Beneath the Surface with Lillie Shaw" and "CrossRoads News", on Saturday, November 17th, 2018, from 9 until 11:30 a.m.  Hear from and interact with International, national, state, and local business leaders who will speak to the undeniable economic legacies of the Black community and our community's' untapped financial potential.  Afterwards, and before Black Friday and Christmas Holiday spending sprees, take part in the "Black Empowerment Marketplace", from noon until 5 p.m., to be held on site.  Entertainers, Vendors and Exhibitors from all areas of Black Business will be on hand to meet your shopping needs and… put your Black Dollar to work for YOUR community.  Proceeds will be contributed to the First Afrikan Church restoration initiatives.
The events are open to the First Afrikan community and the public.   Businesses interested in participating in this event may contact Sis. Cara Fears Johnson and Rev. Lillie Shaw Lomax at 678-748-1524.
55 or Older, Unemployed, Low Income and Looking for Work?
The AARP Foundation's Senior Community Service Employment Program (SCSEP) is a work search training program developed for older adults returning to work. For over 45 years, the program has provided individuals 55 and older with work search opportunities. Individuals are placed in a wide variety of non-profit and government agencies for training to help them return to the workforce. INTERESTED?? Contact your local SSCSEP Office to get started. AARP Foundation (SCSEP), Senior Community Services Employment Program 4319 Covington Highway, Suite 204, Decatur, GA 30035, 678-919-8283

Kilombo is now accepting 3-4 year olds. We have a few slots still open for K-8. If you want a safe, loving environment for your child, Kilombo is the place. Kilombo fosters an academically excellent and culturally relevant education that produces students who are equipped to succeed globally and are committed to social justice. Kilombo exists as a result of First Afrikan Church's commitment to institution building. Call Aminata Umoja at 404-992-8021 or email me at aumoja@comcast.net   for more information.  Visit our new campus at 1879 Columbia Drive, www.kilomboschool.com. First Afrikan members in good standing receive a 10% discount.
---
CD'S are available for sale in our media room in the Narthex for $7.00.