PLEASE REMEMBER TO PRAY FOR ALL OUR SICK, SHUT IN AND THOSE THAT ARE EXPERIENCING DIFFICULTIES IN THEIR LIVES AND FAMILIES
---
Friends and Families in Houston Texas, Florida, Caribbean Islands, Georgia and South Carolina.
Mr. Ronald Whatley, family friend of Elder Stephanie Pearson-Robinson
Mama Itihari Toure
Mr. Anthony Lee, brother of Sis. Mary Lee (Elder Jim) Davis
Babajide Faoye 
Mama SaBruwRa Jackson
Mama Julia Williams                  
Mama Asha Lacy (404-234-4099)
Bro. George Tait, husband of Sis. Akosua Tait
Please send your prayer request and prayer concerns to deacons@firstafrikanchurch.org
---
ANNOUNCEMENTS:
No Bible Study on Wednesday, September 20, 2017 at First Afrikan Church.
The Health and Environmental Ministry will be holding its monthly meeting on Sunday, September 17, 2017 at 1:00pm after service at the Vanessa Knight Building. Members are urged to attend but all are welcome. Refreshments will be served. For further information please see Dr. Jewel Crawford or Dr. Darren Shomari Harper.
FAC Sisters and friends:  You are invited to attend the upcoming gathering of Seasoned Women on Tuesday, September 19, 7pm – 9pm @ Vanessa Knight Building.  The topic will be making ancestral altars and more. Come join us.  Remember – Bring a dish, its potluck.
You are invited to attend St. Stephan Lutheran Church, 4664 Covington Hwy, Decatur, GA 30035, for a Wednesday Revival leading up to their 60th Church Anniversary on Wednesday, September 20, 2017 at 7pm.  Theme: "Renew, Rejoice & Reach", Philippians 3:12-16 Speaker, Pastor Mark "Ogunwale" Lomax along with FAC Choir, Ngoma Lungunda Drummers & Tamba Issa Dancers.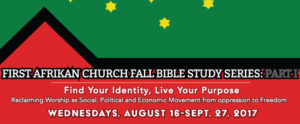 Bible Study Wednesday, September 27, 2017. Reclaiming Worship as Social, Political and Economic Movement from Oppression to Freedom.  This week presenter, Elder Dr. Itihari Toure and Rev. Dr. Harold Bennett. Session: Worship as Social Reformation: The Azusa Street Revival  Acts 2:1-13 Class Sessions 1:00 p.m. and 7:00 p.m. (lunch & dinner served 1 hour prior to class)
First Afrikan Church 24th Anniversary will be celebrated Saturday December 9th and Sunday December 10, 2017.  The theme is "Building First Afrikan's Future Together: Restoring GOD to the Center of Life, 2 Chronicles 7:13-16". Anniversary Committee Chairs, Elder Doug Gaither and Rev. Rhonda James-Jones. Watch for more to come!
---
COMMUNITY ANNOUNCEMENTS:
Have you considered a picture of your family for holiday gifts? Maybe you need a headshot. Come to Kilombo's Community Picture Day on Sept. 18 or 19th to get your picture taken. Call Aminata Umoja at 404-992-8021 or email me at aumoja@comcast.net  to make an appointment. We are located at 1879 Columbia Drive. Visit our website at www.kilomboschool.com. Kilombo exists as a result of First Afrikan Church's commitment to institution building. Did you know First Afrikan members in good standing receive a discount on tuition at Kilombo?
Please join Kilombo Academic and Cultural Institute for our Annual Fish Fry, Saturday, Oct. 7th from 11:00-6:00. 1879 Columbia Drive, on the campus of Hillside Presbyterian Church. Join us for food, fun and fellowship. Kilombo will begin teaching children ages 3-4 by mid-October. Come out and see the school. Find out about our Pre-K program.  Together we can educate our children, ourselves!
Kilombo's 12th Annual Dinner will be November 11th from 6:00-9:00 at the Venue on Redan, 4964 Redan Rd. Attorney Mawuli Davis will be our keynote speaker. Come and enjoy the wonderful sounds of Mausiki Scales and the Common Ground Collective. Join us for a luxurious evening of good food, good company, good music and a soul stirring message as we build our freedom school!  If you'd like tickets or you'd like to put an ad in our ad booklet, please call or email me, Aminata Umoja at 404-992-8021, aumoja@comcast.net. Kilombo fosters an academically excellent and culturally relevant education that produces students who are equipped to succeed globally and are committed to social justice.
The City of Lithonia presents: The Original Collard Greens Cultural Festival, Saturday, September 23, 2017 from 12NOON – 8pm at the Lithonia Amphitheater, 2501 Park Drive, Lithonia, GA 30058. A Collard Green everything event – Sample all kinds of dishes including collard green ice cream. Hosted by City of Lithonia Mayor Deborah A. Jackson
CD'S are available for sale in our media room in the Narthex for $7.00.