ANNOUNCEMENTS: 
Please join us for our last Fall/Winter Bible Study Series on Healing, Wednesday, October 16th at 1:00pm & 7:00pm. Study Topic & Text: "Comfort for God's People" Isaiah 40
---
COMMUNITY ANNOUNCEMENTS: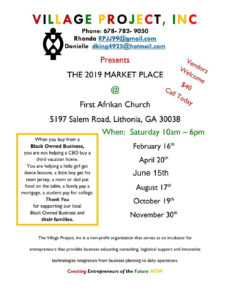 Be a Vendor at the Village Project, Inc. Marketplace on Saturday, October 19, 2019th at First Afrikan Presbyterian Church, 5197 Salem Road, Lithonia, Ga 30038 from 10:00am to 6pm. Vendor Fee $40.00 and is due NOW. Electronic payments Methods: Cash App-$Village ProjectInc, PayPal.Me/VillageProjectInc.
The Auburn Avenue Research Library, in collaboration with, The Weems Firm, Inc. and The Committee on African American History and World Perspectives will host bestselling author, historian, and veteran teacher Professor Kaba Hiawatha Kamene and international educator Dr. Chike Akua for a thought-provoking conversation on culture and education. Saturday, October 19, 2019 at 1:00pm.
City of Lithonia, 2019 Resource Fair, Hosted by Bruce Street Senior Center(In partnership with the Lithonia AmeriCorps Project), Monday, October 28, 2019 10 AM – 2 PM, 2484 Bruce Street, Lithonia, GA.  Resources available for housing, legal assistance, financial education and more!! Volunteers will be available for assistance with resources. For more information contact sylvia.okoma@lithoniacity.org. As a resource provider to the community you are welcome to be a vendor for free at this event and vendors will split lunch for up to 50 attendees.
Kilombo's Annual Fundraising Dinner is Saturday, November 16, 2019, at 7 pm.  Our keynote speaker is Dr. Asantewa Sunni Ali. Dr. Ali grew up the movement for Black Liberation. Her presentation will include clips from her film, https://seedzofrevolution.com/trailer. The dinner will be held at the Venue on Redan, 4964 Redan Rd. Please join us for healing, revitalization, music, good company and fine dining.  Asante sana, thank you First Afrikan for your ongoing support!  As a result of your consistent generosity, Kilombo Academic and Cultural Institute is able to educate our children and employ our people. Kilombo is born out of the vision of First Afrikan Church and the work of the Malcolm X Grassroots Movement.  Call 404-992-8021 or email Aminata at aumoja@comcast.net.