ANNOUNCEMENTS:
"Gifting Our Children with Written Words" for Sunday, Dec 3rd.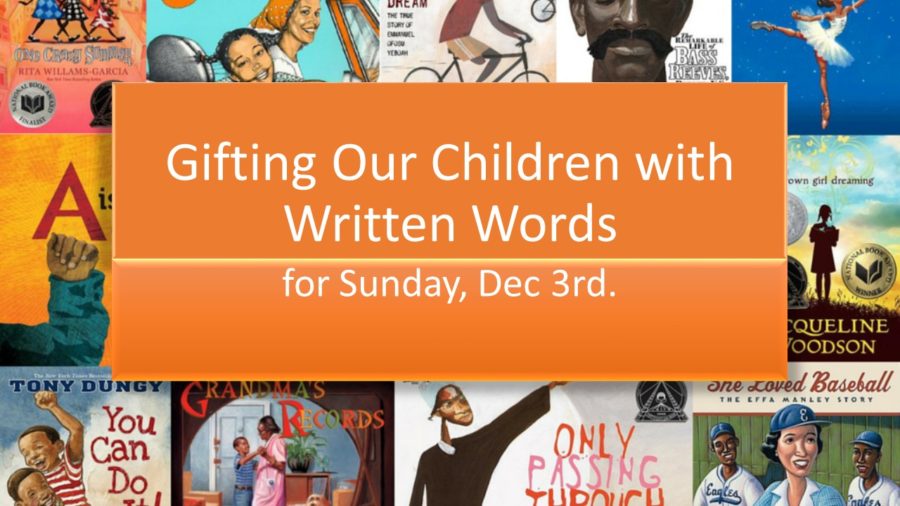 Asking EACH First Afrikan Church Adult to donate one NEW BLACK Children's Book (pre-school thru age 17) for Book Gifting on Sunday, December 3rd after Service–a perfect way to BEGIN the Season of Giving. A box is on the floor in the Narthex for books. Donor book labels are available for you to add your names and put inside the books you donate. Ages:   1– 4, Ages:   5– 8, Ages:   9–13, Ages: 14—17. You may also give books to Sis. Angela Reid to keep until the December 3rd Gifting.  
Please join us for our Fall/Winter Bible study this Wednesday, November 29, 2017 at 1pm & 7pm. Study Subject: Get It Straight Afrika!: Spirit and Flesh not Spirit or Flesh. Text: Galatians 5:16-26 (Lunch & Dinner served 1 hour before class)
Attention FAC Members, if you have published a book in 2017 and would like to be a part of The Black History Month Friends and Family book signing Celebration. Please email Deacon Tenagne Edwards at frannie@aol.com.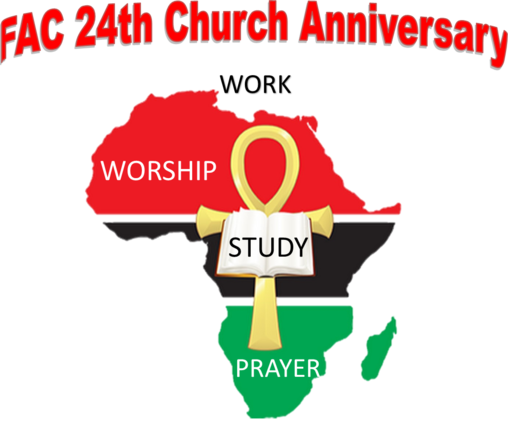 24th Church Anniversary Food Team: A special thank you to the following members have agreed to prepare our communal meal for Sunday December 10, 2017, Deacon Sharon Munajj, Sis. Florence Jobe, Sis. Sherry Forbes, Elder Andrea Keith, Bro. Patrick Dennis, Bro. Lou King, Bro. Christopher Francis, and Sis. DeNeen McBean Warner. Members we are asking that you contribute a dessert or a beverage. If you are willing to participate in this way please contact Rev. Rhonda at 678-782-9050. Thank you in advance Members for your contributions.
The 24th Church Anniversary Celebration will be Saturday, December 9 and Sunday December 10 (10am worship service only).The celebration will focus on the church family spiritually reconnecting with God, through a commitment to pray, study, worship and work together as we identify and fulfill our divine call to "Building First Afrikan's Future Together:  Restoring God to the Center of Life."  Mark your calendars and invite family and friends. Anniversary Committee Chairs, Rev. Rhonda James-Jones and Elder Doug Gaither.
The 24th Anniversary Celebration will begin on Saturday December 9, with the Building First Afrikan's Future Black Business Expo.  Come out and do your holiday shopping with us and support businesses in our community.  Let your dollars circulate in the Black Community and help us Build First Afrikan's Future Together.  If you would like to participate as a vendor or have a recommendation of a vendor please contact Elder Doug Gaither @ 678-296-4421, or Rev. Rhonda James-Jones @ 678-782-9050
Come out for FOOD, PRIZES and KNOWLEDGE – What else is FUN made out of? First Afrikan will be hosting an AFRIKAN FREEDOM FAMILY KWANZAA QUIZ BOWL Thursday, December 28, 2017 at 6:00 pm.  All aged 8-25 are welcome to participate.  No pre-registration needed – Just come. This event is also open to the public, so please invite family and friends.  You do not have to be a Black History Scholar to participate or have a good time, as the objective of the Bowl is designed to facilitate a fun learning environment. LET'S show everyone how we LOVE as we LEARN at First Afrikan. Mark the date. December 28. 6pm.  Be there or Be square… If you really need more information contact Bro. AJ Kush @ Amenkush@gmail.com or
Elder Jihad Uhuru @ authorjihad@gmail.com or call 770-374- 4619.