PLEASE REMEMBER TO PRAY FOR ALL OUR SICK, SHUT IN AND THOSE THAT ARE EXPERIENCING DIFFICULTIES IN THEIR LIVES AND FAMILIES
---
Mrs. Rheaba Brackery, mother in law of Elder Lorraine (Bro. Jimmy) Brackery.
Ms. MaryAnn Hickman of Collinsville, Indiana, sister of Sis. Sandra (Elder Don) Phoenix
Hurricane & Earthquake victims            Elder Jim Davis        Babajide Faoye
Mama Julia Williams
Bereavement:
Mr. Laverne Clay, father of Deacon Renee King made his transition on Friday, November 10, 2017 in Buffalo, NY.
Mr. Charles Flowers, brother of Sister Abena Ajanaku made his transition. His service were held in Texas on Saturday, November 11, 2017.
Mrs. Berdia Beatty, sister in law of Mother BJ Beatty-Wilson made her transition on Monday, November 13, 2017. Her service is being held on Monday, November 20, 2017 in Oklahoma City, Ok
---
ANNOUNCEMENTS: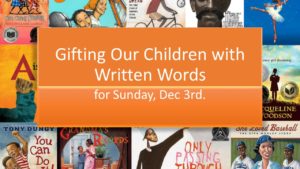 Asking EACH First Afrikan Church Adult to donate one NEW BLACK Children's Book (pre-school thru age 17) for Book Gifting on Sunday, December 3rd after Service–a perfect way to BEGIN the Season of Giving. A box is on the floor in the Narthex for books. Donor book labels are available for you to add your names and put inside the books you donate. Ages:   1– 4, Ages:   5– 8, Ages:   9–13, Ages: 14—17. You may also give books to Sis. Angela Reid to keep until the December 3rd Gifting.  
Please join us for our Annual Community Worship Service on Tuesday, November 21, 2017 at 7pm.This year's host church will be Big Miller Grove Baptist Church, 3800 Big Miller Grove Way, Lithonia, GA. 30038, First Afrikan Church Pastor Mark "Ogunwale" Lomax will preach the word and Ousley United Methodist Church with sing the songs of praise.
No Bible Study Wednesday, November 22, 2017.  
The Church office will be closed Wednesday, November 22, 2017 thru Friday, November 24, 2017.
Please join us for our Fall/Winter Bible study this Wednesday, November 29, 2017 at 1pm & 7pm.  Study Subject: Get It Straight Afrika!: Spirit and Flesh not Spirit or Flesh.  Text: Galatians 5:16-26 (Lunch & Dinner served 1 hour before class)
Attention FAC Members, if you have published a book in 2017 and would like to be a part of The Black History Month Friends and Family book signing Celebration. Please email Deacon Tenagne Edwards at frannie@aol.com.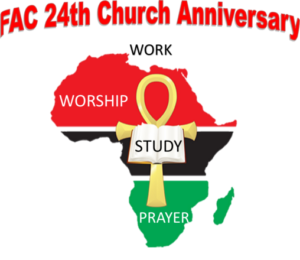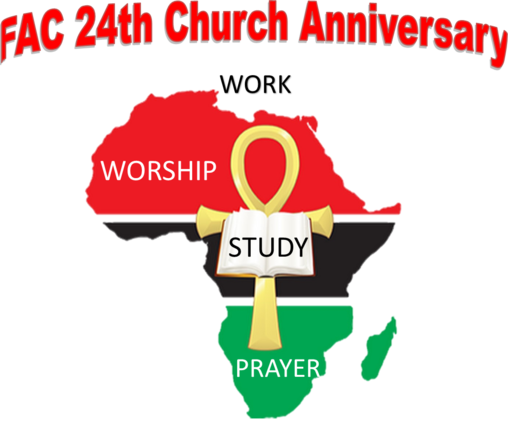 The 24th Church Anniversary Celebration will be Saturday, December 9 and Sunday December 10 (10am worship service only).  The celebration will focus on the church family spiritually reconnecting with God, through a commitment to pray, study, worship and work together as we identify and fulfill our divine call to "Building First Afrikan's Future Together:  Restoring God to the Center of Life."  Mark your calendars and invite family and friends. Anniversary Committee Chairs, Rev. Rhonda James-Jones and Elder Doug Gaither.
The 24th Anniversary Celebration will begin on Saturday December 9, with the Building First Afrikan's Future Black Business Expo.  Come out and do your holiday shopping with us and support businesses in our community.  Let your dollars circulate in the Black Community and help us Build First Afrikan's Future Together.  If you would like to participate as a vendor or have a recommendation of a vendor please contact Elder Doug Gaither @ 678-296-4421, or Rev. Rhonda James-Jones @ 678-782-9050
Come out for FOOD, PRIZES and KNOWLEDGE – What else is FUN made out of?  First Afrikan will be hosting an AFRIKAN FREEDOM FAMILY KWANZAA QUIZ BOWL Thursday, December 28, 2017 at 6:00 pm.  All aged 8-25 are welcome to participate.  No pre-registration needed – Just come. This event is also open to the public, so please invite family and friends.  You do not have to be a Black History Scholar to participate or have a good time, as the objective of the Bowl is designed to facilitate a fun learning environment.
LET'S show everyone how we LOVE as we LEARN at First Afrikan. Mark the date. December 28. 6pm.  Be there or Be square… If you really need more information contact Bro. AJ Kush @ Amenkush@gmail.com or
Elder Jihad Uhuru @ authorjihad@gmail.com or call 770-374- 4619.
---
COMMUNITY ANNOUNCEMENTS:
CHASE invites the Community to our Climate Change Symposium/Exhibit on Saturday, December 2, 2017 from 11am-3pm at the Salem/Panola Library, 5137 Salem Road, Lithonia, GA 30038. Come! Hear what our children have to say about Climate Change.
CD'S are available for sale in our media room in the Narthex for $7.00.