CHURCH ANNOUNCEMENTS:
Please join us for our Winter Bible Study Series starting Wednesday, November 20, 2019 at 1:00pm or 7:00pm. Study Topic: Ujamaa/Cooperative Economics – "To build and maintain our own stores, shops and other businesses and to profit from them together. Study Text: Acts 4:32-37
Thanksgiving Meals for Needy Families:  The bags will be distributed on TODAY. See
Deacon Lynne Young.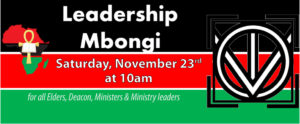 Leadership Mbongi for all Elders, Deacon, Minister's & Ministry leaders on Saturday, November 23rd a 10:00am.
Please join us on Sunday, November 24 at 2:00pm for the Ordination Ceremony of Rev. Carlton D. Johnson to the role of Minister of Word and Sacrament (Teaching Elder) in the Presbyterian Church USA.  Rev. Johnson has taken a role in the Office of Vital Congregations in the Presbyterian Center in Louisville KY but remains an active participant in the life of the First Afrikan Church so we look forward to seeing you here as we celebrate what God has done!!!
Please join us for our annual Community Worship Service on Tuesday, November 26th at 7:00pm. FAC will host the service, Sermon by Bishop Miles Fowler of Big Miller Grove Baptist Church and Big Miller Grove Baptist Choir will sing.
The church office will be closed Wednesday, November 27 thru Friday, November 29th.
Join us as we celebrate our 26th Church Anniversary on Sunday, December 8th, at 10:00am. Invite your family and friends to join us in the celebration. Our theme: Living Life to the Fullest Text: John10:10c. Speaker: Pastor, Rev. Dr. Mark "Ogunwale" Lomax.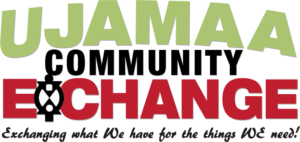 The Ujamaa Ministry, will host the last Community Give Away of 2019 on Saturday, December 21, 2019 from 10:00 am to 2:00 pm on the church grounds of First African Presbyterian Church. We are asking that you please come out and participate in the exchange by bringing gently used items that someone else might be blessed to receive.  If there is an item that you need you are most welcome to have it.  Freely give and freely receive.  EVERYTHING IS FREE!  Please plan to stay for the entire event as all of your unexchanged items leave with you and we have a communal meal together.  For more information please contact Rev. Rhonda at 678-782-9050.
---
COMMUNITY ANNOUNCEMENT: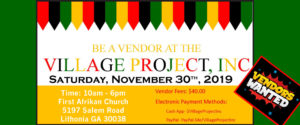 Village Project Marketplace on Saturday, November 20th from 10am to 6pm.  Come out and support our small business on Small Business Day at First Afrikan Presbyterian Church, 5197 Salem Road, Lithonia, Ga 30038.  Vendors welcome… Vendor Fee is $40.00. Electronic payments Methods: Cash App-$Village ProjectInc, PayPal.Me/VillageProjectInc.