PLEASE REMEMBER TO PRAY FOR ALL OUR SICK, SHUT IN AND THOSE THAT ARE EXPERIENCING DIFFICULTIES IN THEIR LIVES AND FAMILIES

---
Ms. MaryAnn Hickman of Collinsville, Indiana, sister of Sis. Sandra (Elder Don) Phoenix
Mr. Charles Flowers, brother of Sister Abena Ajanaku
Hurricane & Earthquake victims            Elder Jim Davis        Babajide Faoye
Mama Julia Williams
Bro. George Tait, husband of Sis. Akosua Tait made his transition on Sunday, November 5, 2017.
---
ANNOUNCEMENTS:
Sisters and friends, please come out and join this month's Seasoned Women gathering on Tuesday, November 14th from 7PM – 9PM @ the Vanessa G. Knight building.  Adjacent to First Afrikan Church. Martha Muhammed will host. The topic will be motivational. Bring a sister….bring a dish. Remember, it's potluck.
Please join us for our Fall/Winter Bible study this Wednesday, November 15, 2017 at 1pm & 7pm.  Study Subject: Only Believe   Text: 2 Corinthians 5:1-10 (Lunch & Dinner served 1 hour before class)
First Afrikan Family, Please don't forget to come and support the church wide clean up on Saturday, November 18, 2017 in preparation for our church anniversary. The focus will be on the sanctuary, bathrooms, and kitchen at the church. At the Vanessa Knight Building the first two rooms and bathrooms. Work will be completed in the park/garden as well.
Thanking you in advance, Property Commission and Creation Care
Thanksgiving Meals for Needy Families:  The Deacon Board will be providing bags of food to needy families for the Thanksgiving Holiday. We are looking for families who need support. If you are a family or you know of a family who needs support, please contact one of your friendly FAC Deacons or call the church office to sign up to receive a bag no later than Thursday, November 16. Or, if you are able to, please take a bag located in the Narthex, fill it up using the shopping list attached and bring it back to the church the following Sunday.  Cash, $15 or $20 grocery store gift cards are also welcome. The bags will be distributed on Sunday, November 19th. For more information, please contact Deacon Niyoka Johnson (niyoka_m@hotmail.com 404 317-4952), Deacon Joy Rankin (joyjohn7@yahoo.com 516 456-9200) or Deacon Lynne Young (serwaa1@gmail.com; 678 772-9400).  Thank you for your generosity!
Please join us for our Annual Community Worship Service on Tuesday, November 21, 2017 at 7pm.This year's host church will be Big Miller Grove Baptist Church, 3800 Big Miller Grove Way, Lithonia, GA. 30038, First Afrikan Church Pastor Mark "Ogunwale" Lomax will preach the word and Ousley United Methodist Church with sing the songs of praise.
Kijana is an Afrikan Rites of Passage program for boys age 13-17.  If you are interested in having a young man in your home of community participate with the next group, please attend an Open House on Saturday, November 18 in the VGK Building.  If you have questions, please see Rev. Carlton D. Johnson.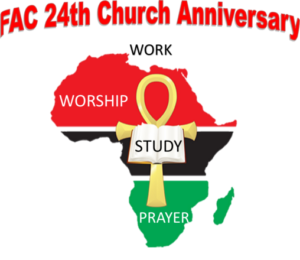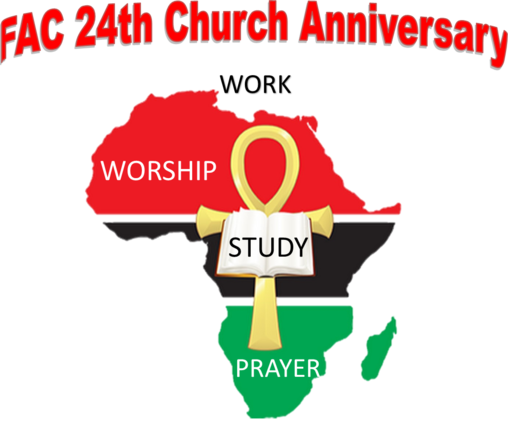 The 24th Church Anniversary Celebration will be Saturday, December 9 and Sunday December 10 (10am worship service only).  The celebration will focus on the church family spiritually reconnecting with God, through a commitment to pray, study, worship and work together as we identify and fulfill our divine call to "Building First Afrikan's Future Together:  Restoring God to the Center of Life."  Mark your calendars and invite family and friends. Anniversary Committee Chairs, Rev. Rhonda James-Jones and Elder Doug Gaither.
The 24th Anniversary Celebration will begin on Saturday December 9, with the Building First Afrikan's Future Black Business Expo.  Come out and do your holiday shopping with us and support businesses in our community.  Let your dollars circulate in the Black Community and help us Build First Afrikan's Future Together.  If you would like to participate as a vendor or have a recommendation of a vendor please contact Elder Doug Gaither @ 678-296-4421, or Rev. Rhonda James-Jones @ 678-782-9050
---
COMMUNITY ANNOUNCEMENTS:
Tuskegee University Choir in Concert at Ousley United Methodist Church, 3261 Panola Road, Lithonia, GA 30038 on Sunday, November 12, 2017 at 4pm. Please join us and Support out Talented Students. Donation $20. Pastor McCallister Hollins, Senior Pastor, for additional information and tickets please contact, Ms. Corene Washington at 770-482-4030 or gcwashin@comcast.net
Stonecrest Library (3123 Klondike Road, Lithonia, GA 30030) presents Teza: A Film by Ethiopian filmmaker Haile Gerima, Tuesday, November 14, 2017, 4pm – 8pm. A personal drama set in Ethiopia and Germany which chronicles the return of an African intellectual to his country of birth during the repressive Marxist regime of Mengistu Haile Mariam. Meet & Greet at 4pm followed by the film screening at 5pm. Q&A 7:30pm
CHASE invites the Community to our Climate Change Symposium/Exhibit on Saturday, December 2, 2017 from 11am-3pm at the Salem/Panola Library, 5137 Salem Road, Lithonia, GA 30038. Come! Hear what our children have to say about Climate Change.
---
CD'S are available for sale in our media room in the Narthex for $7.00.