PLEASE REMEMBER TO PRAY FOR ALL OUR SICK, SHUT IN AND THOSE THAT ARE EXPERIENCING DIFFICULTIES IN THEIR LIVES AND FAMILIES
---
Mother Dorothy Stamps
Sis. Kim Purnell
---
---
ANNOUNCEMENTS:
Please join the Deacon Board TODAY following worship service for a Book Signing with renowned author Michael Datcher of AMERICUS. LOS ANGELES, CA – Set circa 1917 in East St. Louis (13 miles from Ferguson), AMERICUS examines the recurrent intersection of race and violence in the region – and in America.  This historical novel shows how the past offers insight into the present.
The deadline to turn in your completed square for the First Afrikan 25th Church Anniversary Quit is TODAY.  Please see Deneen McBean Warner or Debora Bowers to make your purchase. Thank You and we look forward to everyone being a part of this Historic Quilt to leave an accounting of our presence here at First Afrikan Church.
FAC's CHILDREN'S KWANZAA (UJIMAA) 2018 is quickly approaching! Members of the Kwanzaa Committee is calling for adult VOLUNTEERS to work with and for our younger children and youth during this time.  The ARTS and CRAFTS session needs the energy of
both our SISTERS and BROTHERS!  Enthusiastic and interested persons should contact Sister Akosua Tait @ (347) 738 8924.
WORSHIP LIFE COUNCIL MEETING AT FAC Monday 11/12 @ 7:00pm
In light of our upcoming Church Anniversary and other December and January celebrations, your attendance is extremely important! If you are unable to attend, please insure the presence of a representative.  We look forward to seeing you there. Elder Carlton Johnson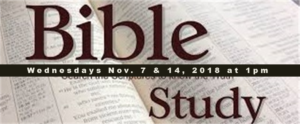 Mid-Day Bible Study, Wednesdays Nov. 7 & 14, 2018 at 1pm only in the Vanessa Knight Building Main Class Room. Topic: The Bible – our companion as we continue to walk in the power of the Afrikan Holy Ghost. Facilitator – Elder Carvel Bennett.  Whether you believe the Bible to be "the inspired word of God' or "the infallible word of God", it still remains the "sacred text" for millions of Afrikans in the United States, the Caribbean, and across the Afrikan Diaspora. This special 2 week mid-day bible study will facilitate discussion and study on (Nov. 7): (a) the Bible as infallible/inspired word of God (b) What is the Bible? (c) formation of the Biblical Canon; (Nov. 14) (a) How to study the Bible from an Africentric perspective, with emphasis on Afrikan morals and ethics (b) Identifying additional resources to aid in our understanding of the Bible (c) A look at other ancient texts including The Husia, the Dead Sea Scrolls, the Egyptian Book of the Dead.  Lunch will be served beginning around 12:15pm
Please join First Afrikan, Ousley United Methodist and Big Miller Grove Baptist Churches for our annual Community Worship Service on Tuesday, November 20th at 7pm hosted by Ousley United Methodist Church, 3261 Panola Road, Lithonia, GA 30038. Pastor Bishop Miles E. Fowler will bring the word and FAC choir will sing.
The Sankofa Sterling Silver Celebration Banquet is the next event in celebration of our 25th Church Anniversary and will be held at Jolie An Event Facility, 5240 Panola Industrial Blvd, Decatur, GA 30035 on Saturday, December 1, 6:30PM. Tickets are $50. and can be purchased from a anniversary committee members or online at Eventbrite https://www.eventbrite.com/e/first-afrikan-church-sankofa-sterling-silver-celebration-banquet-tickets-51526383801
---
COMMUNITY ANNOUNCEMENTS:
There will be a meeting where developers want to rezone 2346 Pine Mountain Street, Lithonia, GA from residential to M-1 (Light Industrial) on Thursday, November 13th at the Manuel Maloof Building, 1300 Commerce Drive, Decatur, GA 30035 at 6:30pm. They also have submitted an application to amend Dekalb County's Land use map to use the property for future industrial uses. We oppose this request. We don't want any more polluting industries in our community. If you have any questions to contact Renee Cail – disoni7@yahoo.com
"The Black Business Empowerment Forum" comes to First Afrikan Church by way of "Beneath the Surface with Lillie Shaw" and "CrossRoads News", on Saturday, November 17th, 2018, from 9 until 11:30 a.m.  Hear from and interact with International, national, state, and local business leaders who will speak to the undeniable economic legacies of the Black community and our community's' untapped financial potential.  Afterwards, and before Black Friday and Christmas Holiday spending sprees, take part in the "Black Empowerment Marketplace", from noon until 5 p.m., to be held on site.  Entertainers, Vendors and Exhibitors from all areas of Black Business will be on hand to meet your shopping needs and… put your Black Dollar to work for YOUR community.  Proceeds will be contributed to the First Afrikan Church restoration initiatives.
The events are open to the First Afrikan community and the public.   Businesses interested in participating in this event may contact Sis. Cara Fears Johnson and Rev. Lillie Shaw Lomax at 678-748-1524.
You are invited to join Church of the Master, 3400 Martin Luther King Jr. Drive, Atlanta, Ga 30331 for the 53rd Church Anniversary. Theme: Small But Mighty: Committed to Building the Community in Christ. On Sunday, November 18, 2018 at 10:30am for Worship Service. Dr. Will Coleman will be the guest speaker. Light refreshments after the worship service.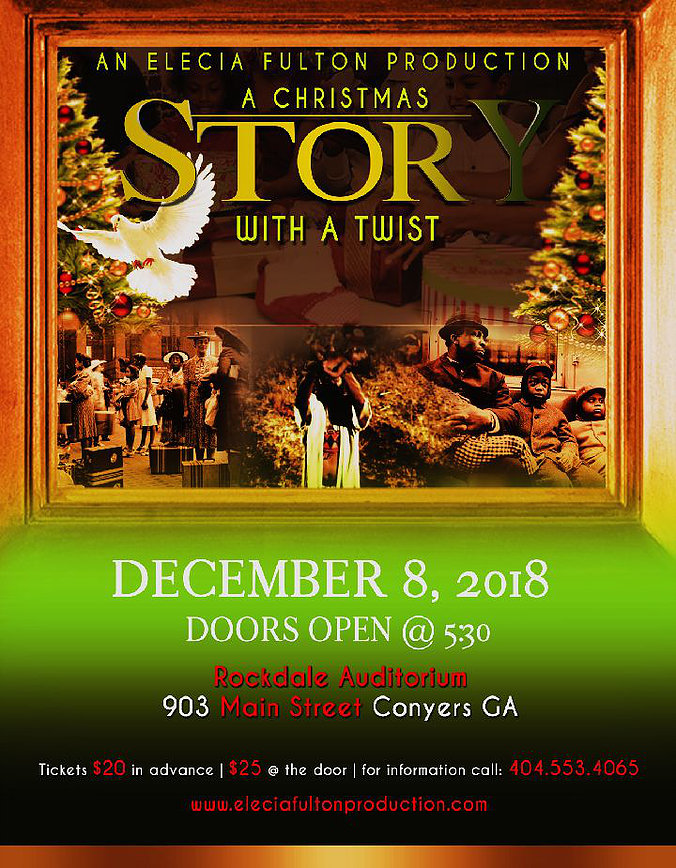 An Elecia Fulton Production "A Christmas Story with a Twist". A Broadway Gospel Stage Play, Saturday, December 8, 2018 Doors Open @ 5:30pm. At the Rockdale Auditorium, 903 Main Street Conyers, GA. Tickets $20. In advance at the door $25. For Information Call 404-553-4065
www.eleciafultonproduction.com
---
———–