CHURCH ANNOUNCEMENTS: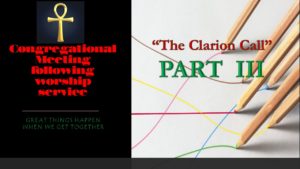 Please join us for the final Session (Part III of III) of our Congregation meetings TODAY following our morning worship service.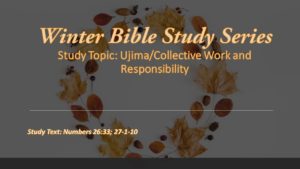 Please join us for our Winter Bible Study Series starting Wednesday, November 13, 2019 at 1:00pm or 7:00pm. Study Topic: Ujima/Collective Work and Responsibility – "To build and maintain our community together and make our brother's and sister's problems our problems and to solve them together. Study Text: Numbers 26:33; 27-1-10
Thanksgiving Meals for Needy Families:   The Deacon Board is looking for help in providing bags of food to needy families for the Thanksgiving Holiday. We are looking for families who need support. If you are a family or you know of a family who needs support, please contact one of your friendly FAC Deacons or call the church office to sign up to receive a bag no later than Wednesday, November 13th. Or, if you are able to, please take a bag located in the Narthex, fill it up using the shopping list attached and bring it back to the church Sunday, November 17th.  Cash, $20 or $25 grocery store gift cards are also welcome (from Kroger, Publix or Walmart). The bags will be distributed on Sunday, November 17th. For more information, please contact Deacon Lynne Young (serwaa1@gmail.com; 678 772-9400).  Thank you for your generosity!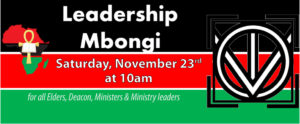 Please join us for a Leadership Mbongi for all Elders, Deacon, Minister's & Ministry leaders on Saturday, November 23rd a 10:00am.
Please join us for our annual Community Worship Service on Tuesday, November 26th at 7:00pm. FAC will host the service, Sermon by Reverend Dr. Tariq Zayid Cummings of Ousley United Methodist Church and Big Miller Grove Baptist Choir will sing.
The church office will be closed Wednesday, November 27 thru Friday, November 29th.
Join us as we celebrate our 26th Church Anniversary on Sunday, December 8th, at 10:00am. Invite your family and friends to join us in the celebration. Our theme: Living Life to the Fullest Text: John10:10c. Speaker: Pastor, Rev. Dr. Mark "Ogunwale" Lomax.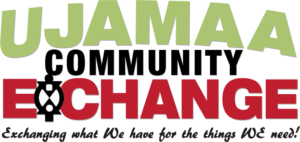 The Ujamaa Ministry, will host the last Community Give Away of 2019 on Saturday, December 21, 2019 from 10:00 am to 2:00 pm on the church grounds of First African Presbyterian Church. We are asking that you please come out and participate in the exchange by bringing gently used items that someone else might be blessed to receive.  If there is an item that you need you are most welcome to have it.  Freely give and freely receive.  EVERYTHING IS FREE!  Please plan to stay for the entire event as all of your unexchanged items leave with you and we have a communal meal together.  For more information please contact Rev. Rhonda at 678-782-9050.
---
COMMUNITY ANNOUNCEMENTS:
Kilombo's Annual Fundraising Dinner is Saturday, November 16, 2019, at 7 pm.  Our keynote speaker is Dr. Asantewa Sunni Ali. Dr. Ali grew up the movement for Black Liberation. Her presentation will include clips from her film, https://seedzofrevolution.com/trailer. The dinner will be held at the Venue on Redan, 4964 Redan Rd. Please join us for healing, revitalization, music, good company and fine dining.  Asante sana, thank you First Afrikan for your ongoing support!  As a result of your consistent generosity, Kilombo Academic and Cultural Institute is able to educate our children and employ our people. Kilombo is born out of the vision of First Afrikan Church and the work of the Malcolm X Grassroots Movement.  Call 404-992-8021 or email Aminata at aumoja@comcast.net.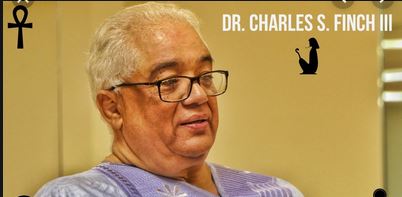 REMINDER: Gift of the Nile Tour X, under the leadership of Dr. Charles Finch, II. July 16-27, 2020. First 3 payments are already due if not paid.  Please contact Consolidated Tours Organization, 5665 New Northside Drive, Suite 150, Atlanta, GA 30328. Phone 404-767-2727 or email: info@ctoinc.com
---
PLEASE REMEMBER TO PRAY FOR ALL OUR SICK, SHUT IN AND THOSE THAT ARE EXPERIENCING DIFFICULTIES IN THEIR LIVES AND FAMILIES
---
Bro. Carl & Sis. Yvonne Sherrill
Elder Cassie Pannell
Leslie Edwards
Mr. Andy Morain, Friend of Deacon Ian Palmer
Mrs. Rosie Fears, mother of Sis. Cara (Elder Carlton) Johnson mother
Elder Leo Hall
Elder Curtis Grier
Sis. Sharon El
Bro. Robert "Bob" Foster
The Clopton Family
Mr. Derrick Wilson, son of Mama BJ Beatty-Wilson
Bro. Ronald White
Mama Dorothy Stamps
---
CD"S are for sale in our media room for $7.00 in the Narthex