PLEASE REMEMBER TO PRAY FOR ALL OUR SICK, SHUT IN AND THOSE THAT ARE EXPERIENCING DIFFICULTIES IN THEIR LIVES AND FAMILIES
---
Bro. James Costen
Linda Estella Jones
Ms. Kendra Jones, daughter of Sis. Louvern Asante
Bro. Omari Warner
Bishop Rex Houston
Sister Janice "Taheera" Nichols-Harper
Bro. Shamir Johnson
Bro. Obasi Williams
Elder Freddie Young
Bereavement:
Mr. Ernest Young, father of Deacon Darrick (Elder Melva) and Elder Roberto (Min. Victoria) Young made his transition. Mr. Young funeral service will be held on Friday, March 9th at St. Nicholas Church, St. Louis, Mo.
---
ANNOUNCEMENTS:
Thanks to the Harambee Team who participated in the 2018 Atlanta Food Bank Hunger Walk Run and all the supporters who helped the First African Food Pantry EXCEED it's goal of $3000.  We are that much closer to eliminating Hunger in our community.
Congregation meeting next Sunday, March 11th to elect our 2018 Nominating Committee following the 8am & 10am worship services.
There will be one service on Resurrection Sunday, April 1st at 10:00am.   Following Resurrection Sunday, we will continue with the single service at 10:00am for the remainder of the year.
Our Children, Our Stories: Today during 10AM Service only! Children ages 4-8 may come downstairs after the "Community Affirmation" during the "Song of Preparation," for Story time. They will return upstairs for Zawadi. PARENTS may bring and STAY with children under age four. Contact:  Sister Angela Reid
Family, planning for the 2018 FAC Youth Lock-In is underway! We need your support to make this a great Lock-in. If you cook, organize, work well with youth, or can donate funds we would greatly appreciate your assistance. Please join us for a brief meeting with the Youth Leaders TODAY following service in the small community room downstairs. For more information please see Minister Chinasa, Baba Molefi, or Elder Pauline. Thank you!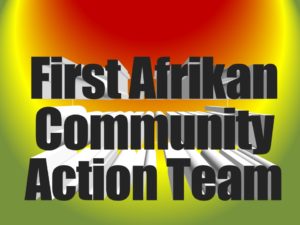 Join the First Afrikan Community Action Team for the Second Annual Elected Officials Forum on Monday, March 5th at 6:30 p.m. The theme is "Building Power: Citizen Advocacy in an Age of Resistance." City of Stonecrest, City of Lithonia, DeKalb County and state elected officials have been invited to address your questions about policies and issues in our community.
Please join us for our Lenten Bible Study Series, Wednesday, March 7, 2018 at 1:00pm & 7:00pm. Session #5(Ujima) Cooperative Economics, A pathway to Freedom, Scripture: Acts 2:43-47. Lunch & Dinner served before classes.
Please join us for a Financial Seminar "Building a Strong Financial Foundation" hosted by the FAC Trustees and Bro. Muhammad Canon on Sunday, March 18th after the 10am worship service.   Be certain in uncertain times. We will discuss methods, principles, and concepts that will aid in our financial security. This training will have a youth group (ages 10-17) and an adult group. Each group will train separately on the same concepts. At the end of the training we will reconvene and each group will share what they have learned.
---
COMMUNITY ANNOUNCEMENTS:
This month we will have the following food pantries:  March 6, March 9, March 14, March 18, March 20, March 23 and March 28.  Go tell the community!  No one in Metro Atlanta should go Hungry!
CD'S are available for sale in our media room in the Narthex for $7.00.