PLEASE REMEMBER TO PRAY FOR ALL OUR SICK, SHUT IN AND THOSE THAT ARE EXPERIENCING DIFFICULTIES IN THEIR LIVES AND FAMILIES
---
Ekedi Jones, newborn of Deacon Akintunde & Edima Jones
Sis. Gemma Clopton
Elder Carlton Williams
Bro. Ronald White
Mama Dorothy Stamps
---
ANNOUNCEMENTS:
TODAY IS THE LAST DAY NSAA APPLICATIONS WILL BE ACCEPTED.  The annual NSAA Service of Academic Excellence is being celebrated this year on Sunday, June 23, 2019 during our 10:00am Worship Service. Persons wishing to have their children, or those who have achieved academic excellence and want us to celebrate with them in community will be required to fill out an application. The applications available in the Narthex.
First Afrikan Church Caribbean American Heritage Month, June 2019. Celebrating the Spirit of the Indigenous People of the Caribbean. Please join us for our Caribbean Worship Service Celebration Sunday, June 30, 2019 at 10:00am with Speaker Rev. Rhonda James-Jones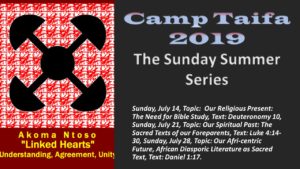 Please join us for Camp Taifa 2019- The Sunday Summer Series, Sunday, July 14, Topic:  Our Religious Present: The Need for Bible Study, Text: Deuteronomy 10, Sunday, July 21, Topic: Our Spiritual Past: The Sacred Texts of our Foreparents, Text: Luke 4:14-30, Sunday, July 28, Topic: Our Afri-centric Future, African Diasporic Literature as Sacred Text, Text: Daniel 1:17. Facilitators: Elder Carvel Bennett and other FAC Leaders. Durations 75-90 minutes following worship service.
---
COMMUNITY ANNOUNCEMENTS:
Lithonia Farmers Market on Main Street Saturdays, June 8 thru October 19th.  12 noon – 4:00pm
---
CD'S are available for sale in our media room in the Narthex for $7.00.
---