PLEASE REMEMBER TO PRAY FOR ALL OUR SICK, SHUT IN AND THOSE THAT ARE EXPERIENCING DIFFICULTIES IN THEIR LIVES AND FAMILIES
---
Deacon Danielle King
Sis. Yvonne Dunkley
Mother Dorothy Stamps
Sis. Kim Purnell
---
 
ANNOUNCEMENTS:
Please join us for our Winter Bible Study Series, Yeshua, Our Afrikan Messiah: Healer of the Oppressed. Wednesdays, December 5, 2018 at 1pm with Elder Carvel Bennett and 7pm Pastor Mark Lomax. Study Title: Healing as an Act of Resistance. Text: Mark 3:1-6
First Afrikan Church invites you to a Community Concerns Panel (Are Africentric Christianity Worldview Relevant in Today's Society?) on Saturday, December 8, 2018 at 3pm-5pm. At the Auburn Avenue Library Research Library, 101 Auburn Avenue, Atlanta, GA 30303. Panelists Include: Dr. Lisa Shannon (Moderator), Dr. Molefi Asante, Dr. Akinyele Umoja, Dr. Dianne Stewart, Dr. Mark Lomax and Mrs. Sonya Grier.
Come One and All to help Celebrate our 25th Church Anniversary Worship Service, Sunday, December 9th at 10:00am. A time to celebrate the steadfast quarter of a century journey from FAC's inception to adulthood, the seasoning continues.  Guest Speaker: President, Molefi Kete Asante Institute for Afrocentric Studies, and Professor and Chair, Department of Africology and African American Studies at Temple University in Philadelphia.  Invite your family and friends to help us celebrate this joyous occasion.
ATTENTION ALL LEADERS of First Afrikan Church, Please join us for our end of the year Leadership Mbongi on Saturday, December 15, 2018 at 1:00pm. We will review 2018 and make plans for 2019. All 2019 calendar dates should be submitted No Later Than 12Noon on Wednesday, December 12th.
 FAC's CHILDREN'S KWANZAA (UJIMAA) 2018 is quickly approaching! Members of the Kwanzaa Committee is calling for adult VOLUNTEERS to work with and for our younger children and youth during this time.  The ARTS and CRAFTS session needs the energy of
both our SISTERS and BROTHERS!  Enthusiastic and interested persons should contact Sister Akosua Tait @ (347) 738 8924.
---
COMMUNITY ANNOUNCEMENTS: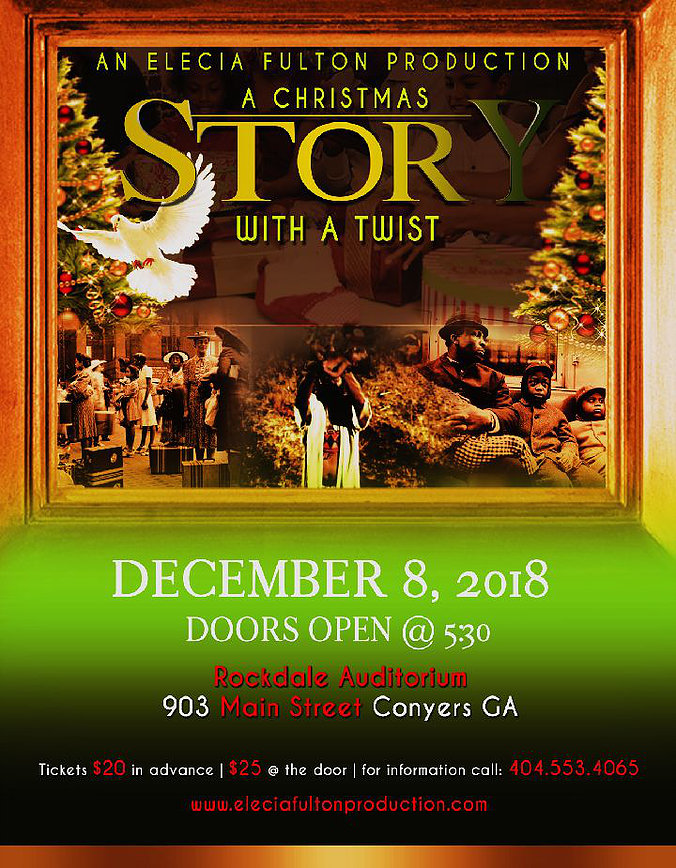 An Elecia Fulton Production "A Christmas Story with a Twist". A Broadway Gospel Stage Play, Saturday, December 8, 2018 Doors Open @ 5:30pm. At the Rockdale Auditorium, 903 Main Street Conyers, GA. Tickets $20. In advance at the door $25. For Information Call 404-553-4065
www.eleciafultonproduction.com
The Westhills Community Church, 2600 Fairburn Road, Atlanta, Ga. 30331 (located on left side of street at flashing caution lights) invites you to Sunday, December 9, 2018 at 3:00pm-4:30pm. Reception immediately following: 4:30pm – 5:00pm. Tickets $12.00. Tickets may be purchased at the door; please make all checks payable to Westhills Community Church.
---
CD'S are available for sale in our media room in the Narthex for $7.00.