ANNOUNCEMENTS: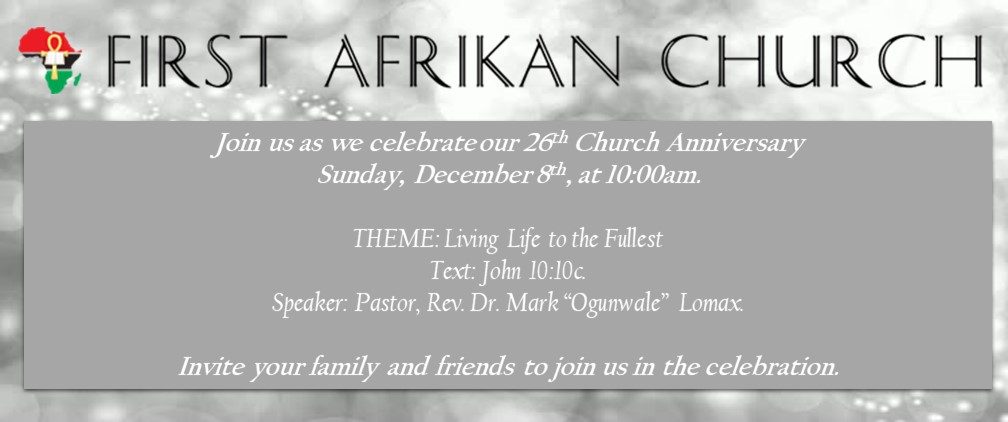 Join us as we celebrate our 26th Church Anniversary on Sunday, December 8th, at 10:00am. Invite your family and friends to join us in the celebration. Our theme: Living Life to the Fullest Text: John10:10c. Speaker: Pastor, Rev. Dr. Mark "Ogunwale" Lomax.
Please join us for our next Winter Bible Study Series on Wednesday, December 11, 2019 at 1:00pm or 7:00pm. Study Topic: Kuumba/Creativity – "To do always as much as we can, in the way we can, in order to leave our community more beautiful and beneficial than we inherited it.  Study Text: Matthew 10:1, 5-8, 16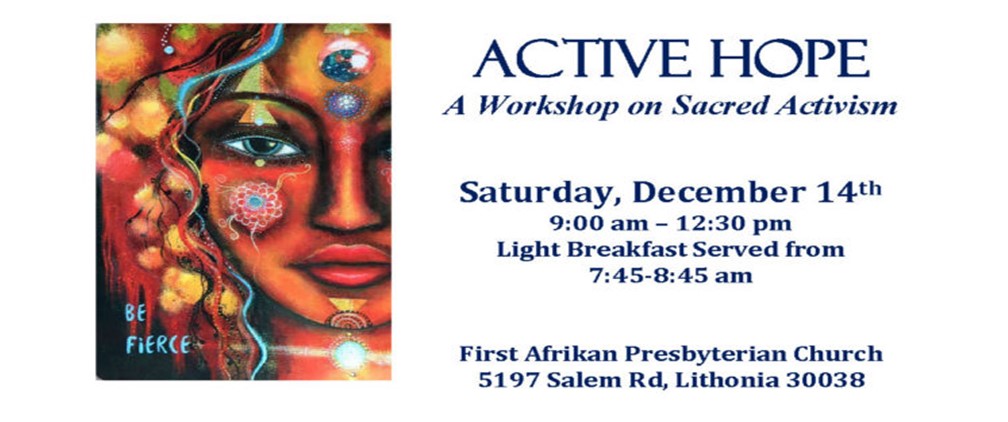 FACAT (First African Community Action Team) presents ACTIVE HOPE – A workshop on Sacred Activism "How can we remain resilient, creative and empowered to act for the healing of our world?" on Saturday, December 14, 2019 at First Afrikan Church VGK Building at 9:00am – 12:30pm. .  Please RSVP at https://www.eventbrite.com/e/82553049393 by Wednesday, December 11, 2019 by Noon. A light breakfast will be served from 7:45-8:45am. Cost is Free – Love Offerings are graciously accepted.  For additional information please contact Sis. Harriet Oliver at holiver321@gmail.com
The Ujamaa Ministry, will host the last Community Give Away of 2019 on Saturday, December 21, 2019 from 10:00 am to 2:00 pm on the church grounds of First African Presbyterian Church. We are asking that you please come out and participate in the exchange by bringing gently used items that someone else might be blessed to receive.  If there is an item that you need you are most welcome to have it.  Freely give and freely receive.  EVERYTHING IS FREE!  Please plan to stay for the entire event as all of your unexchanged items leave with you and we have a communal meal together.  For more information please contact Rev. Rhonda at 678-782-9050.
---
COMMUNITY ANNOUNCEMENTS:
You are cordially invited to join family and friends in partnership with the Meharry Medical College National Alumni Association for a joyful celebration of the 100th birthday of
Addie Mildred Knight Crawford, RN, 1945, one of Meharry's oldest living graduates. On Sunday, December 15th at 3pm at the Atlanta Airport Hilton, 1031 Virginia Avenue, Atlanta, GA 30354. Formal or Semi-Formal Attire. Tickets $50.00 To honor her many years of community service, the event will help raise funds for the Addie Mildred Knight Crawford scholarship  for deserving African American students at Meharry.  Please contact Jewel Crawford for tickets and more information:  404 849 1578  DOCJLC@GMAIL.COM