ANNOUNCEMENTS:
Congregation Meeting Sunday, August 11, 2019 following the morning Worship Service.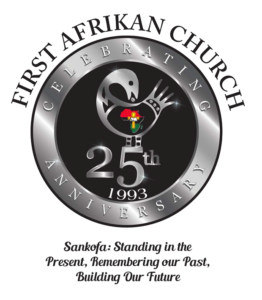 Family, get your FAC 25th Anniversary paraphernalia – There are two pre-sale orders. The first order ends on Sunday, August 18th. The second and final order is from September 8th until September 22nd. Items will be returned between 8-10 days. Both will be returned in time for our Ancestral Walk (Oct. 12th) and the African American Studies Department Homecoming Tailgate (Oct. 5th). Purchase your items via cash or check with Sonyá Grier or at the debit table with Dwayne Johnson. T-shirts- child sizes $10, adults sm – XL $12, adults 2X – 3X $15
Polos- adults sm – XL  $30, adults 2X – $35  adults 3X – $45 Caps- $12  Coffee Mugs- $8
---
CD'S are available for sale in our media room in the Narthex for $7.00.