ANNOUNCEMENTS:
Congregation Meeting Today Cancel.
Please join us for Bible Study Wednesdays, starting August 14th at 1:00pm or 7:00pm. Theme: Our lives as Sacred text.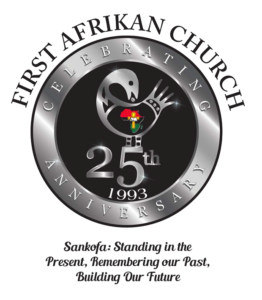 Family, get your FAC 25th Anniversary paraphernalia – There are two pre-sale orders. The first order ends on Sunday, August 18th. The second and final order is from September 8th until September 22nd. Items will be returned between 8-10 days. Both will be returned in time for our Ancestral Walk (Oct. 12th) and the African American Studies Department Homecoming Tailgate (Oct. 5th). Purchase your items via cash or check with Sonyá Grier or at the debit table with Dwayne Johnson. T-shirts- child sizes $10, adults SM – XL $12, adults 2X – 3X $15
Polos- adults SM – XL $30, adults 2X – $35 adults 3X – $45 Caps- $12 Coffee Mugs- $8
The FAC Anniversary Committee presents: First Afrikan Church & Friends Got Talent" Saturday, September 7, 2019 at 6:00 PM. If you are interested in show casing your talent.
The Anniversary Committee is now accepting applications for singers, musicians, dancers, inspirational rappers, spoken word, individuals and groups.  Talent must not contain profanity and must be kid friendly.  Applications are available in the Church narthex or Contact Marchia Phillips@ 404-434-7331. Limited spots available Application are due by August 31, 2019. 
---
COMMUNITY ANNOUNCEMENTS: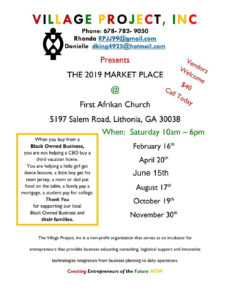 The Village Project Marketplace is coming up on August 17th from 10am – 6pm at First Afrikan Church.  We have created this space to help support Small Black-Owned Businesses and we need you to come out and support them.   We have handmade jewelry, 100% soy candles, Caribbean food and drinks, vegetarian cuisine, custom men's accessories, African Clothing, essential oils, etc.  If you have a book, service, or product that can help our community please considering vending.  We want to support as many Small Black-Owned businesses as possible. There is still room for anyone interested please call Rhonda James Jones at 678-782-9050 or Danielle King at 404-797-6073.  No product, no problem…we still need your support! Buy Black and support our Vendors, keeping the dollar circulating in our community. See you Soon!