PLEASE REMEMBER TO PRAY FOR ALL OUR SICK, SHUT IN AND THOSE THAT ARE EXPERIENCING DIFFICULTIES IN THEIR LIVES AND FAMILIES
---
Elder Gerard Munajj
Rev. Rhonda James Jones and baby Samone
Bro. Omari Warner
Sis. Kim Purnell Grady
Sis. Nathalie Sertima of Detroit, sister of Sis. Sandra Samuels
Baba Babajide Fayoye
Elder Freddie Young
Sister Janice "Taheera" Nichols-Harper
Bereavement: 
Mrs. Shawn McCray of Dallas, TX, niece of Bro. William Ross made her transition on Monday, April 23rd.
---
ANNOUNCEMENTS:
The FAC Youth Leaders would like to thank everyone who participated in the 2018 FAC Youth Lock-In. It was amazing because of the outpouring of community support! Special thanks goes out to the youth workers, volunteers, sponsors, and the FAC Food Pantry! Thank you so much!  Minister Chinasa
Please join us for Bible Study Wednesdays, April 25th through May 9th  at 1 & 7pm. Wednesday, May 2nd; Topic: The Earth and Everything in it, Belongs to God. Study Verse: Psalm 24. Lunch and dinner served one hour prior to class.
Please join Big Miller Grove Baptist Church, First Afrikan Church & Ousley Methodist in giving the perfect gift along with the American Red Cross.  Give Blood, Wednesday, May 2, 2018 from 1:00pm-6pm in the Fellowship Hall of Big Miller Grove Baptist Church. To schedule an appointment, access redcrossblood.org and enter sponsor code: BMGB Please drink lots of water and eat a well-balanced meal before donating.
On May 7, Crossroads and the First Afrikan Church Action Team are co-hosting the "Election 2018 Forum" for candidates in the May 22nd Primary and Non-Partisan Elections. The forum takes place from 6pm to 9pm. Candidates will answer questions from a moderator and the audience. Participants: Dekalb County Court Divisions 1 & 7, Dekalb County Board of Commission Districts 3 & &, Dekalb School Board of District 6, Georgia Senate District 43, Georgia House Districts 83, 84, 86, 87, 90 & 94
---
COMMUNITY ANNOUNCEMENTS: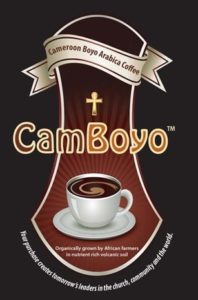 Are you having "COFFEE CONCERNS?" Worry no more about what coffee shop to visit (or boycott), or what coffee to buy for your home! Support First Afrikan Church's partnership with coffee farmers in Cameroon, West Africa by purchasing a bag of Camboyo™ Cameroon Boyo Arabica coffee.  Visit www.firstafricancdc.org to place your order and enjoy a cup today!

You are invited to join The Presbyterian Women at Radcliffe Presbyterian Church as we celebrate Women's Day, Sunday May 6, 2018 at our 11:00am worship service. Theme: "Fearless Women: Claiming our Ministry." Keynote speaker: the progressive Chief Enrollment Management Officer at Columbia Theological Seminary, Ruth-Aime'e Belonni-Rosario and an ordained minister of the Presbyterian Church (USA).
Kilombo is now registering for next school year, 2018-2019.  Kilombo Academic and Cultural Institute is accredited for grades K-8th grade. We will be registering for our Kilombo Daycare, ages 2-4, this May. Kilombo fosters an academically excellent and culturally relevant education that produces students who are equipped to succeed globally and are committed to social justice. Kilombo exists as a result of First Afrikan Church's commitment to institution building. Call Aminata Umoja at 404-992-8021 or email me at aumoja@comcast.net   for more information.  Visit our new campus at 1879 Columbia Drive, www.kilomboschool.com. First Afrikan members in good standing receive a 10% discount.
---
CD'S are available for sale in our media room in the Narthex for $7.00.